Anglers Talk Magazine - Free Glossy South African Fishing Mag Available For Download
"ANGLER'S TALK: magazine is a promotional vehicle for industry manufacturers, retailers, service providers, travel destinations and related lifestyle products. We are also SA's first FREE angling glossy A4 magazine! Although we are one of the youngest angling magazines on the block, we have still flown out the traps and have succeeded in becoming KZN's most read angling magazine!

While we revel in the professional angler who push the boundaries of angling as a 21st century sport and publish their personal adventures, we also have a substantial amount of content aimed at beginner angling enthusiast, ensuring the future growth of the sport and industry. We place a strong emphasis on informing and educating our readers about the ethics of responsible fishing and the impact it has on our environment.
ANGLER'S TALK is an independent South African owned title and we encourage unbiased coverage from real anglers committed to extending their own outdoor frontiers.
Angler's Talk magazine is a FREE Angling supplement, that is locally produced and operates from the province of KZN. Our monthly print run figures are 8000 copies and we distribute throughout the province and have also expanded to the Gauteng province & Western Cape."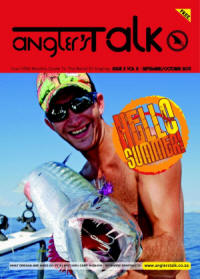 Marlon Sukhnunan
Tel : 072 419 3831
email : editor@anglerstalk.co.za