21 Days In The Salt... Fishing Kenton-sea Angling 2011-2012
The following is a fishing report from an angling journey done in December 2011 - January 2012... Enjoy!
Day 1
So my brother, mother and father and I arrived at Kenton on sea after an 11 hour drive from Johannesburg. We unpacked, ate some food and then my brother and I were off to the Kariega Slipway to scratch around for some small fish. There were plenty of takers but no hook ups. A guy next to us caught a nice Diamond ray in the lagoon, so I quickly went and got some live mullet before it got dark and then rigged up a trace with one on. After getting annoyed with the smaller fish we were about to go home but then the rod ran… I struck it, set the hook and I was vas for a minute or so, until my sinker got jammed up on something, for some reason it would not break loose and about 5 minutes later I went slack and the fish got off… It was definitely a flatfish, and a large one at that, but I will never know the model or size.
Day 2

After the previous nights activity Sean and I were off to the Kariega Slipway once more, this time armed with heavier tackle and non-eds in mind! The wind was howling, 50-60 km/h not pleasant to fish in, but us Vaalies do not have a choice unfortunately… It was a terrible session, peckers all over the place eating our mullet and mackerel baits before the non eds had a chance to pick them up! We did meet a guy called Jacques who was very inexperienced at fishing saltwater and he hooked into a 10kg Raggie, I helped him land it and took a few photos, he was very chuffed! We then became good friends and fished together quite a bit. That was the end of the session, another blank…
Day 3

It was another slow day, with the wind gusting and constantly changing direction. We were off to Boknes to pump some sand prawn and wow was it frustrating. We pumped and pumped for 45 minutes and got 1 Sand Prawn, unheard of! We actually put the Sand Prawn back in its hole, no point keeping it. Then we were off to Butts Cave with high expectations, as this has always been my "Go To" spot. Another blank for me, my first blank ever at Butts Cave, very disappointing. But Sean managed to get his first ever saltwater fish, a very nice Blacktail, thus getting us "off the mark" for the trip, it was a good Blacktail 25cm and fought nicely on 7lb XX and a size 10 hook with chokka tentacles soaked in sardine blood. That was about it unfortunately and we didn't even get any small bites after that. The weirdest fishing I have ever seen at this spot… Now we were off to drown our sorrows…
Day 4

We decided to fish Butts Cave once more and it paid off! Sean, myself and Jacques made the walk there and baited up quickly, I casted in my size 6 mustad with a chokka/sardine combo and as it hit the bottom BANG! Nice size blacktail – 27cm, awesome fight and quickly released… Then soon after that Sean went on with the first Strepie of the trip, about 15cm. Then it went quiet until the tide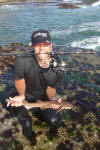 started to turn and then the fun was on! I caught a nice 20 odd cm Strepie and then Jacques got an awesome Brown Shyshark, then I got another Blacktail, smaller this time and another Strepie. Then 3 great fish came out… I went on with a 37cm Stonebream which put up an awesome fight on the 7lb XX and almost cut me off on numerous occasions but when I landed it I was extremely happy, I love these fish! Sean then went on to catch 2 Koester Rockcod, including one very large specimen which went straight for his hole after being hooked, Sean managed to get it out and take a photo with this awesome fish… All in all the best day so far!
Day 5 - No Fishing
Day 6
Sean and I threw some Poppers, diving lures and dropshotted a bit in a good area to no avail, I had a couple of hits on a paddletail (3inch baby shad) but no hook ups.
Day 7
The bad weather and bad fishing continued and we met up with Adolf and he unfortunately experienced it as well. We were at Butts Cave by about 6.15am and I had never seen the water look so good! First throw and Steve got a nice Blacktail… After that it was really dead no bites and no fish and a lot of good bait wasted. Although Steve went to the other side (The Rocking Horse) and managed to get a beautiful Kob on a sandbank a few metres out on a chokka bait.
Day 8
When we woke up expecting good weather, it was overcast and rainy once again. It cleared at around 11am and we went off to the sandbar floating restaurant armed with some prawn I had pumped the day before. After starting to get overcrowded and not catching fish we decided to move and scale down on our tackle. We went to the Kariega bridge and paddled across to the other side where it dropped off nicely. We had some fun fishing in the nursery there on size 10 hooks with pink prawn and sand prawn. I got 7 Pinky & a Cape Stumpnose, Sean got a Strepie and a Pinky. We had caught some fish, nothing above 15cm but at least we got some fish out and had some fun on the light tackle using 5lb XX.
Day 9
Was Christmas Day so no fishing was done, the weather was once again shocking. But Sean and I started converting our unused garage into a fishing room.
Day 10

We went to fetch Aimee from the PE airport early in the morning and she seemed to have brought some good weather and good fishing with her. She settled in and then we went to the Kariega bridge again to try get some more smaller fish, and that we did! Aimee got a very nice Blacktail, Sean did as well and he also got a Pinky and 2 Cape Stumpnose, I got 3 Pinkies, 1 Cape Stumpnose, 1 Blacktail and 1 beautiful little Strepie. The heat chased us back home and all in all was a great day!
Day 11
Once again the weather got us, so we did not fish…
Day 12

We fished Butt's Cave and met up with Steve, I was throwing for Bronze Bream and then Kob but managed 1 decent Strepie, Sean and Aimee were pulling out Strepie and Blacktail and Sean got a monster Blacktail and a Twotone Fingerfin.
We then moved on to a location called the Rocking Horse. I have never fished this spot but we saw guys pulling fish out so we decided to give it a go. We caught all sorts of fish, Strepie, Red Fingers, Super Klipfish and lots of Juvenile Stonebream which was lots of fun! I also lost a decent size Bronze Bream when trying to land it I had my line cut off on the rocks. It was a great day between the 3 of us we got 25 fish! I think I might have a new favourite spot!
Day 13

We went back to the place where we had fished yesterday called The Rocking Horse, keen to try get a Bronze Bream, this didn't happen but we caught some great fish once again, Aimee caught her biggest Blacktail as well as 2 others and 3 Stonebream. Sean got some more great Blacktail as well as a small Twotone Fingerfin. I managed 3 Stonebream including 2 of the smallest Stonebream I had ever seen it was great! I also caught a Strepie which was kept for bait, the first fish of 72 we had kept so far. I then added to my species list, making it 50, with my first and amazingly beautiful John Brown, it fought really well for its size and I was so chuffed when I got it out!
Day 14

We were off to do a night session at the Kariega River Mouth and we met up with Brad. Brad baited up first while I was helping Aimee and Sean. 5 minutes later his dropshot tackle got picked up and it was a proper flatfish, at first we thought it might be a big Sandy or a Blue Ray but then as the fish swam in for a bit I got closer into the water and to my amazement it was a huge Diamond Ray, really huge, easily 40kgs. Well from there the Shimano Sienna couldn't stop screaming and unfortunately, after a nice burning smell coming from the reel, the Diamond took Brad into the channel, out to sea and reefed him, it was unfortunate but Brad was quickly back in the water for round 2! I then got 2 great pulls and was on for under a minute each time but both times my Kendall Rounds pulled somehow, was disappointed! Then at the end of the night Brad broke his non ed drought and got a nice Lesser Sandshark in, couple of photos, then a quick release! That was it as the weed started to build up and our 5 ounces started to get washed badly.
Day 15
New years eve, everywhere was chaos so no fishing was done.
Day 16
After a very busy day and the first of 2012 I took Aimee to the airport and she was off, then I met up with Brad for another session. The beach was full of litter and the weather had changed for the worse which I think put the bigger fish off the bite. The peckers were wild and Brad and I went through 2 Mackerel throw baits in overt an hour or so… Then we switched to Chokka and we both got some more pecker bites and there was some weird activity on Brads bait. Inbetween all this Brad got a nice little bite and a hook up, a few head shakes and dead weight later Brad landed a massive packet, hooked perfectly! We proceeded to Blank until about 12 when we headed for home!
Day 17 - No fishing
Day 18

We went out on the paddleski and paddled around for a bit and then we decided to go visit the Kariega bridge with some light tackle and some pink prawn. We baited up and were immediately on the fish. Sean managed to get a White Stumpnose on his first cast and I got a Cape Stumpnose. Then Sean caught more after more and ended up with 9 fish, Pinky, White Stumpnose, Cape Stumpnose. I got 2 Cape Stumpnose and I hooked into a nice fish and the hook eventually pulled. I think it was a Kob as they were chasing the Glassies constantly in the shallows, all in all another fun day!
Day 19

We set off to the bridge and met up with Steve, I was hoping to get a Kob or Leerie so I caught a Pinky with my first cast and rigged it up, I didn't get any action on it unfortunately, but managed to get another Pinky, a small Cape Stumpnose and a decent Blacktail. Sean got 2 Strepie, 1 Blacktail and 3 Cape Stumpies. Steve got an awesome Garrick on a chokka bait! It pulled him flat and even though it was a juvenile it was a beautiful fish! He lost another one after that when he was about to land it…
Day 20

To make the most of our last day and the bait we had left we went back down to the Kariega Bridge where we baited up with Pink Prawn and caught 27 fish, none of them of great size but lots of fun on the 7lb line especially the bigger Blacktail we got… We also managed some more Pinky, Cape Stumpnose and Strepie… We bided farewell and went to fish the Rocking Horse in big swells. The fish were not playing the game and all we were achieving was getting horribly wet. But then my brother shouted from the other end of the rocks and I saw him land his biggest fish of the trip, a 32cm Blacktail, what an amazing fish and 2cm larger than my PB! After a few photos this Blacktail was safely revived in a rock pool before being released… This was to be our last fish of the trip and what a way to go out on!
Day 21
We woke up early and Sean and I drove to the airport in Port Elizabeth, it was a sad time as our 3 week fishing trip had now come to an end. I saw Sean off on his flight back to Manchester and made my way back to Kenton and proceeded to clean my tackle and pack the car as we were leaving tomorrow. We managed 121 fish between my brother, Aimee and I which included the following:

Species Caught:
• 11
• Koester Rockcod x2
• Blacktail x26
• Strepie x11
• Stonebream x15
• Pinky x31
• Cape Stumpnose x18
• Red Fingers x1
• Twotone Fingerfin x2
• Super Klipfish x2
• John Brown x1
• White Stumpnose x5