Calculate The Weight Of South African Fish Species Accurately & Easily - Fish Weights .co.za!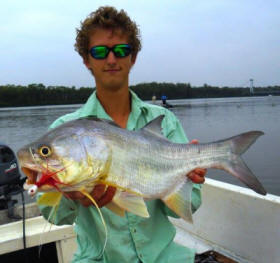 His name is Christopher Caine and many of you in the online angling world know him as Aquadementia. He has recently created a great website that is very user friendly. The website is called www.fishweights.co.za and is an accurate and simple fish weight calculator that includes all the species of saltwater fish you could imagine. So whether its a Klipvis or a Ragged Tooth Shark you will be able to calculate the weights of your fish. All you need to know is the measurement of the fish in centimeters and a few seconds later you will have the weight of the fish in Kilograms.
Here is more from the website:
"Fishweights is an online fish weight calculator that allows anglers to estimate the weight of their catch from a measurement. The data is based on the official tables made use of in competitive rock and surf angling tournaments throughout South Africa. Many international & deep sea fish species are also represented." FishWeights

You will love this website, bookmark it and use it after every fishing trip!