Guidelines For Fishing At Night In South Africa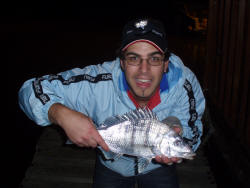 There is something about fishing at night that makes it so much more exciting. Whether you are fishing in the sea or you are fishing in freshwater, night fishing can provide you with some great catches, exciting experiences and even heart stopping and adrenaline pumping moments.
There should be guidelines that need to be followed and taken note of and these can improve your night angling experience. These guidelines apply to both freshwater and saltwater angling, please see below:
Make Sure You Know Your Spot!

Before fishing at night in South Africa, you should make sure you have fished the area during daylight hours. This is important because you need to know what possible risks could be involved. Safety is obviously a very important issue; be 100% sure that you will be safe before you even think of preparing for a night session. Also the spot you are fishing should be thoroughly assessed. For example, if you fish at night at Loskop Dam you will have to be careful of Hippo's and Crocodiles and when you fish saltwater you will need to be careful of the tides, waves, holes and rocks that could be potentially dangerous.
Safety First

Speak to people you know that fish the area often and ask their opinions of safety or experiences. Also never fish alone at night. In my experiences when there are 4 or more people fishing at night trouble doesn't happen. Also make sure you park your car in a safe area, you have lighting: artificial or headlamp, and that you have good footwear and keep your senses keen. Fishing in game reserves should be done as far away from the edge of the water as possible.
Be Prepared And Comfortable
Make sure you double check you have everything you need fishing wise. Also take some food, drinks, warm clothes, batteries, camera and anything else that could make you more comfortable.
Now all you need is to get out onto the water!