The Koester Rockcod(Acanthistius sebastoides) Photo's & Information

The Koester Rock Cod is part of the Serranidae family (Sea Bass, Groupers and Rockcods). The Koester is one of the most common Rockcod fish species within the Eastern Cape waters and can be identified by their orange spots on a pale grey brown body with a blue tip on the tail. The colours on a Koester Acanthistius sebastoides can vary. They are mainly found in rock pools and deeper gullies and reef systems up to depths of 30 meters. The Koester Rockcod lies immobile on the reefs waiting to surprise its prey which mainly include crabs, small fish and invertebrates. The Koester can attain 40cm in length and they are very stubborn fish once hooked. The pictures and images of the Koester Rock Cod you see at the top right hand corner of the page were caught at Bat's Cave in the Eastern Cape.
Fish The Sea is currently recording and observing these fish as they are caught in the Eastern Cape. The Koester is a small Rockcod that is residential and quite difficult to catch. They are a bait robbing species, and despite their large mouth don't get hooked very much. These Rockcod (When they eat your bait properly) will take it straight into a hole, thus making them hard to catch.

The Koester Rockcod, like most other South African Rock Cod species, is very colourful and easy to identify. The Koester is a small species of Rockcod but still puts up a good fight on light tackle as it takes your bait and then swims to it's hole in the reef and once these Rockcod's are in their hole they can be difficult to get out. I did read that if you tighten up your line completely and start 'tapping' your line like a guitar the fish becomes irritated and moves out of its hole. Another way to get Rockcod's out of their holes is to let your line go slack and move to a different position and then pull hard. The Rockcod will normally come out of it's hole in this case.
How To catch The Koester Rockcod?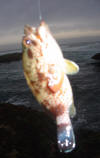 The Koester Rockcod can be targeted on light tackle on the rocks but will often be caught on heavier tackle while anglers are targeting fish such as Musselcracker or Galjoen. Once hooked the Koester Rockcod gives a good account for itself and despite being a small fish the Koester is a strong fighter. The Koester Rockcod are very territorial and will stay in the same general area for most of their lives. This is the tackle and bait that would be suitable for targeting the Koester Rockcod:
6-12 foot rod, the rating of the rod doesn't need to be more than 4 ounces, the lighter the better, I prefer to use a 7 foot rod with a small reel and light line.
Small reel, a multiplier size 20 or 30 reel and a small coffee grinder between sizes 2000 and 5000.
Small hooks, size 8 - 2/0.
Baits could include crab, octopus, chokka, sardine, Strepie fillet, mackerel fillet or oceanic worms and mussels.