The Names Of Different Parts Of Freshwater And Saltwater Fishing Hooks
Diagrams Showing What Parts On The Fishing Hooks Are Called
All saltwater and freshwater anglers in South Africa use hooks every day of their fishing lives but very few South African fishermen know what the different parts of the hook are called or commonly referred to as... Below are two pictures of different fishing hooks and labels that show what part of the fishing hook is called what... This can help you just in case you are not familiar with the following fishing terms:
The Shank
The Eye
The Barb
The Throat
Knowing what makes up fishing and terminal angling tackle is fairly important and knowing what to look for when purchasing hooks is also a good thing to bare in mind; you do not want to loose that fish of a lifetime because your hook got straightened or bent! Generally it is important to stay away from the cheaper hooks when you are targeting larger fish, especially saltwater fish... Here is the make of the fishing hook! There are two diagrams...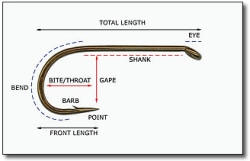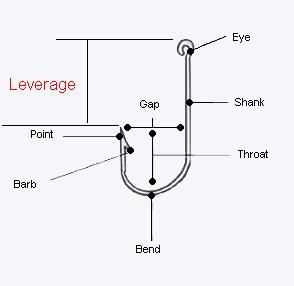 Back to frequently asked questions about fishing...