Fishing With Lures From The Shore
Lure Angling Tips For Saltwater Fish Species In South Africa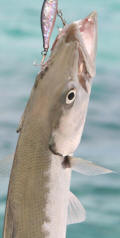 Most of us fisherman really enjoy throwing a lure every now and then if not as much as possible. It is a really fun way to catch a fish. People often do not catch fish with lures because they do not know enough about the fishes habits or the tides. These factors are arguably more important than a lure choice along the shores of South Africa. I am going to give you some advice which hopefully will help you catch more fish on lures, and hopefully some memorable fish. A lot of South African saltwater angling species love lures... Hard plastics, soft plastics, spoons, poppers and plugs are amongst the best. Lure angling is a great way to fish, especially for those of you anglers who do not like touching bait or washing the bait smell of your hands. It is really a relaxing form of fishing... Until that game fish eats your lure and the adrenaline starts pumping!

When you fish with a lure you are essentially targeting game fish species. From the shore you can expect to catch fish on lures like: Garrick, Kingfish, Shad, Kob, Snoek, Couta (King Mackerel), Barracuda and the occasional Yellowtail or Rockcod. The best time to fish with lures to catch these fish is early morning; before sunrise. Late afternoon and into the evening is also a very good time. I find that when it is high tide you have more success. Perseverance is key to catching fish on lures. Lure fishing is an art and if you don't get a bite in 10 minutes change the colour or type of your lure to entice that Garrick to eat... The best types of lures to cast from the shore: Spoon, Jig, Open Faced Popper, Popper, Chisel Nosed Plug, diving lures (Halco's and Rapala's). Keep moving around and look for structure and feeding fish, remember you will not catch any fish if they are not there... Once you have found an area that has feeding fish, you will more likely than not catch fish at the location every time! Trolling lures inshore in rivers and estuaries is also very effective, have a look at this page for tips and best lure choices...
Where To Fish?

The best places to fish with lures from the shore are in river mouths, onto sandbanks, into gullies and above reefs or rocky areas. When fishing into the surf I would advise you to throw quite a heavy lure, such as a spoon or a plug, for more casting distance whereas in a river mouth I would advise you to throw a popper or Rapala type lure. A lot of fish will attack the lure if it looks authentic enough so remember to vary your retrieve speeds and what depth you fish your lure. Read more about saltwater fishing locations...
What Lures To Buy?

I find that Halco and Rapala lead the market in terms of quality and authenticity, you can't go wrong with some of the poppers and diving lures these 2 brands offer. Bite Me jigs also are very good if you want a quick sinking spoon like lure. As far as actually spoons go, here are some of the best ones to look out for: The Sheppie Bomber, Bullet Spoon and S-Spoon are very good and have been tried and tested over many years. These spoons should give you positive results! Strike pro lures, enticer lures, Sebile and other name brands are also a good buy! Just remember the fish do not mind if the lure you are throwing is a R120 Rapala or a R20 no name brand... One lure you should definitely have in your tackle box is the Halco Sorcerer. The Halco Twisty and Chrome spoons are also really good and are available in a number of different sizes.
Read more about Halco lures here... See pictures of salt water fish caught on Halco Lures and spoons...
How To Cast A Lure Or Spoon?
It is a fairly simple process to cast a lure but if you have not done it before it might be a little confusing... The 3 pictures below provide you with the perfect example on how to cast a lure... Preferably you should fish with a coffee grinder reel from size 2500 to size 4500 with a light spinning rod from 5 feet to 9 feet in length... Braid is recommended when fishing with lures, but you can also fish spoons and hard plastics with monofilament line. You should try fish as light as possible, from 7lb line up to 18lb. Nothing more than that. Watch out for wind knots in your line which develop after a lot of casting into the wind. Wind Knots decrease your line strength by half so if you see a wind knot, cut off your lure and retie it... Below is a lure casting tutorial.
Extra Tips
Always check your hooks before you cast your lure, you do not want to loose a fish of a lifetime because the hooks on your lure were too blunt or rusty.
Test the strength of your knot thoroughly.
Adjust you drag accordingly when fighting the fish.
Before you use a lure, test it in your swimming pool or in shallow water to see it's action: From there you will see how you can improve it.

Enjoy fishing with your lure, its heart pumping stuff. Especially if you know the fish are there; the adrenaline just pumps through your body!