Halco Fishing Lures... Catching Big Fish For Many Years! Roosta Popper, Max, Sorcerer, Laser Pro...
Halco is a household name and any lure fishing will tell you stories about big fish that they have caught on these high class Australian Halco Lures... These lures have caught many world record fish species in the ocean and in the freshwater systems. The Halco range of lures is a must for any fresh water or saltwater fisherman or angler. These lures have been tried and tested on many TV programs. These lures are irresistible to game fish species as they move erratically in the water and have a rattle inside them which provoke the fish species you are targeting into attacking your Halco lure! You can cast these lures or troll them, they are very versatile. All that is left is for you to begin the fight of your life and try landing that big Tuna or Kingfish! Many salt water and freshwater predatory fish have succumbed to one of the best lure brands in the world... HALCO!
We are currently OUT OF STOCK of all lures and accessories. We apologize for this inconvenience.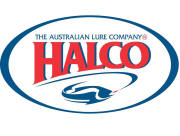 Please have a look at the Halco Catch Album...
Order Halco lures from Fish The Sea
Here are the links to the Halco Lure pages:
The Halco Sorcerer This HALCO lure, the Sorcerer 90, is a great lure that can be used to target almost any predatory freshwater or saltwater game fish...
The Halco Laser Pro The HALCO Laser Pro is a great all round lure for saltwater and freshwater fishermen. This lure is highly regarded as one of the best lures for its size...
The Halco Max The HALCO Max is regarded as a superb lure for large saltwater game fish. Many people would choose this lure over any other lure in the HALCO range...
The Halco Roosta Popper The HALCO Roosta Popper is a very well known surface lure that can be used for saltwater and freshwater angling. You can catch anything from Bass to Yellowfin Tuna...
Halco Night Walker The Halco Night Walker aka The Halco Surface Crawler is a top water lure available in one size of about 6cms...
Halco Barra The Halco Barra, also called the Timber Barra, is a superb lure for targeting estuary fish like Kob and Springer...
Halco Chrome Twisty Spoon Halco Twisty Spoon Information - Best Spoon By Far...
Halco Hamma The Halco Hamma casting and trolling lure is "a clear-bodied suspending casting lure designed for slow retrieve speeds...

Denco Gamefish Lures Kona's locally made in South Africa for targeting all sorts of fish species, from Couta to Tuna to Dorado and Marlin...
Halco Lures all have bullet proof bibs (Also called lips) which are pretty tough (polycarbonate used in bullet proof glass)... Combined with Halco's unique, glue-less locking method; these lures stay put.



Gluing bibs is a quick fix Halco leaves to their competitors... Over time glue solvents can weaken plastic till it snaps. These lures work and keep on working, with a bib that's locked in tight for a good fight. One changeable bib comes free with each Halco lure you purchase... these bibs go to different depths than the standard lip on the lure. Please see pictures below... Click on image to enlarge.