How To Target Big Bronze Bream In Winter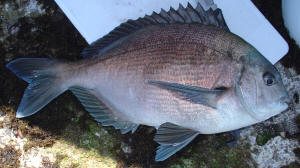 The hard fighting Bronze Bream is a target of many rock and surf anglers along the South African coast. The Bronze Bream can grow to huge sizes and many large fish are caught during Winter months especially. The Bronze Bream is a fierce and dirty fighter, so be careful when playing or landing the fish. Also they are a very slow growing fish, so please think twice before keeping them.
Best Times To Fish
Bronze Bream love feeding in rough water and turbulent sea conditions especially when there is a South Westerly wind blowing. If the weather is miserable and other fish have gone off the bite, this would be the best time to target Bronze Bream.

Where To Fish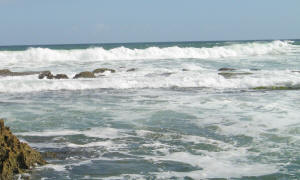 Bronze Bream like to hang out in very rocky areas, gullies and close up against ledges. They prefer shallow water reefs where there is an abundance of white water, rocky terrain, green seaweed and tidal organisms that live on the rocks. They often feed in very shallow water and sometimes come in and out with the waves in only a few feet of water. Keep a look out for green seaweed on the rocks at low tide which looks like it has been mowed; this will be a good spot to fish for Bronze Bream.

Tackle Needed
Depending on how far you will be casting and what the structure is of the area, I would recommend tackling up for this fish. Besides the fact that they are very strong fighters, you might also hook into a Musselcracker or Rockcod. Your trace line should be at least 20lb and I would personally use Maxima 0.45 fluorocarbon. The best hooks will be bait holders, or hooks with a long shank, as this will allow you to build a very good bait. I would use a 1/0 size hook for these fish. A rod no less than 8 feet in length should be used, as you need all the leverage you can get and your reel should have a good drag system, whether you are using a grinder or a multiplier.

Best Baits
There are a lot of baits that work well for Bronze Bream but listed below are some of my personal favourites:
Fresh Chokka strip bait, tenderized, with a Sand Prawn cottoned on top on a 1/0 hook
Pink prawn cut in half and soaked in vanilla essence for a minute on a size 2 hook
Bloodworm on a 1/0 hook