Millstream Fly Fishing - Tintern Waters / Lake Tintern

Lake Tintern/Tintern Waters or just Tintern is the best Dry Fly dam Millstream has to offer with an amazing amount of inquiries on many types of fly. I have seen 2 fish of 3.8 and 4.2 Kilograms respectively caught here. My largest Rainbow here was 2.4kgs caught on a very small RAB, size 18. The late afternoon hatches at Tintern can be frantic and unbelievable.
When To Fish Tintern?
Tintern produces fish throughout the day, early morning and late afternoon is when one should fish dry fly and during the middle of the day or the hotter hours, wet flies and nymphs should be used.
Where To Fish Tintern?
Tintern has many great areas to fish. All the Jetty's produce good fish, particularly the longest Jetty close to the stables. This whole bank is really good and the fish frequent this shallow area, this part of the dam is Dry Fly heaven for any Fly Fisherman.
What Flies Work?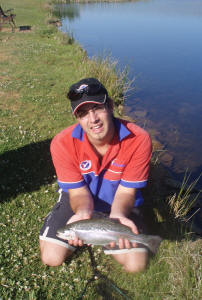 Dry Fly: A range of dry flies work at Tintern: Marabou, Elk Hair Caddis, Red Humpy, Humpy, DDD, Adams, Royal Wulff, White Wulff, RAB, floating ant, Goddard's Sedge, Grey Wulff, Grey Duster, White Duster, Royal Coachman.
Wet Fly: Woolly Bugger is the only wet fly I would fish in this dam because you can get it down deep and retrieve it through the weedy bottom without getting snagged.
Nymphs: GRHE, San Juan Worm, Bloodworm, Green Buzzer, Orange Buzzer, Tandem Buzzer, Flashback.
What Techniques Work?
On the bank closest to the recreation centre and stables dry fly is the way to go. On the opposite bank, on the jetty, Nymphing works very well and along the bank wet flies should be used and let them sink right to the bottom.
Extra Tips For Tintern
Tintern can have up to 4 hatches a day. When these hatches happen switch to very small nymphs, very small white or black dry flies or alternatively a small RAB normally get the Trout's attention.