RASSPL - Rock & Surf Super Pro League Gauteng GT's
RASSPL Central Gauteng GT's Franchise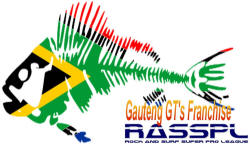 Come Fish for Gauteng and stand the chance to win loads of prizes! Gauteng needs you!
The Rock & Surf Super Pro League (RASSPL) is a unique revolutionary fishing league that any angler can fish; first timers or experienced veterans. It is a catch and release competition fished in some of the finest waters of South Africa.
See Gauteng's RASSPL website here...
RASSPL 2012/2013 Season Calendar
The 2012 season will get under way in June, with 3 competitions to be fished before the nationals in April 2013, where Gauteng will compete against all other provinces in South Africa and possibly Namibia as well.
Gauteng 2012/2013 Season Table
RASSPL Gauteng GT's Competitions In The 2012/2013 Season
17th-19th December 2012 - Gauteng GT's in Eastern Cape

22nd December 2012 - Gauteng GT's Vs. Kowie Crackers

April 2013 - Nationals
Previous Competitions:
RASSPL Rules & General Information
Franchise Manager: Gareth Roocroft
Important Rules:
The competition is catch and release only.
No fish may be kept.
All fish need to be photographed on the official RASSPL mat.
Anglers are allowed 2 rods per person.
Sliding is allowed, provided there is at least 50 meters between you and close by anglers.
No live bait larger than 500 grams is allowed to be used.
All rules and regulations that apply to recreational fisherman apply within comps.
No hand lines allowed.
Lures, dropshots and fly are allowed to be used.
No gaffing of fish will be allowed.
You are not allowed to help any anglers with casting, baiting up, hooking or landing fish.
All fish must be returned to the water alive and the weigh card has to be signed and witnessed before you can cast again.
Any fish brought dead to a witness will not count.
Any angler caught in possession of any dead fish will be banned for life.
Fish caught out of season will count as points as they are being released.
Anglers submitting weigh cards past the weigh in time will be disqualified.
If an angler is late because a fish has been hooked please contact me as above.
Gauteng will host 3 competitions each season (April – April), excluding the National competition where the top anglers from each franchise will compete against each other.
Recording Fish Properly, Points System & Fish Measurements
All score cards must display the angler's name and his/her RASSPL number and contact cell number. Any score card not filled in properly will be disqualified and all fish must be measured using an official RASSPL weigh mat from the 1 September 2011.
If the fish is too long a tape measure may be used or two or more RASSPL mats may be placed side by side to measure the fish. If you need to use a tape measure two sticks must be placed in the sand and the measurements need to be recorded between the two sticks and a photo displaying your RASSPL score card must appear in the photo displaying the allotted mark on your card for the day.
The Super Pro League Franchise reserves the right to disqualify any angler found cheating during a competition or transgresses any of the terms and conditions of the RASSPL or its competition rules, or acts in a manner which is detrimental to the interests of the RASSPL or its members. Any angler caught cheating or breaking the rules will be blacklisted for life and be banned from fishing any future Pro League competitions or tournaments.
All catches must be witnessed by another competing RASSPL angler or official on the day of competition and the card must be filled in and signed properly, displaying the witness' full name and signature. You must specify between male and female fish in the case of sharks and rays. If no reference is made as to the sex of the fish the measurement of a male fish will be allocated to the anglers score card.
The points must be recorded and signed and the fish must be returned live before an angler may make his/her next throw unless the fish is been kept alive in a suitable sized rock pool until a witness can verify the measurement.
The results must be recorded neatly as any illegible recordings will not count. The witness must use his or her RASSPL number as reference when signing the angler's card.
All catches must be photographed both on the official RASSPL weigh mat, clearly showing mark for the day in the red block of the card facing upwards and the measurement of the whole fish not just the tail section and a photo of the angler holding the fish with his back to the sea showing the area the fish was caught. Fish recorded without a clear photo will not be eligible for a prize.
No fish must be measured across the back. If a fish is landed on rocks and cannot be moved to the beach the measurement must be taken in the air from the nose to the tail in accordance of the specified outlines. Anglers should make sure whether the measurement should be fork length, full length or pre caudal length. If not sure, the organizers should be contacted by cell phone to obtain clarity. Any fish measured incorrectly will be disqualified.
Anglers are requested to refrain from dragging a fish along the sand when landing it. Rather pick it up and measure it on a weigh mat or bring a mat or tape measure to the fish and measure the fish where it has been landed to avoid unnecessary injury to the fish. Return fish as soon as possible after photographing them. MEASURING mats should be rinsed of sand and kept clean AND WET whilst measuring fish to avoid removing the slime from the fish's body. Any gut or gill hooked fish; the angler must cut the line or trace as short as possible before returning the fish.
If an angler thinks his/her fish might be eligible to win a prize for the biggest of a species, then the fish must be photographed on an official RASSPL Weigh mat clearly showing the measurement of the fish. Only fish over 1kg for edibles and 2kgs for non edibles that might stand a chance of winning a prize need to be photographed. All other fish just need to be witnessed and the measurement, fish species and sex of the fish need to be recorded. However, if an angler is not sure whether his/her catch might qualify for a prize or record, it is suggested that he/she rather takes a photograph and records the measurement. The minimum qualifying measurements are recorded on the back of your score card. Please check them before returning your fish.
Each species is awarded bonus points based on how rare the species is. All fish once decided on, will score the same bonus points through-out the country to keep the points standard.
A minimum weight based on measurement of 1 kg for sharks and rays and 500gms for edible fish will qualify for points.
Edible fish will be awarded four (4) points per kg plus bonus points while sharks will earn one (1) point per kg plus bonus points.
Any fish species not listed for set bonus points will automatically score 100 bonus points for the first of each new species not listed.
Anglers catching 6 species will be awarded 200 additional bonus points upon catching their 6th species and a further 100 points for catching their 8th species and 200 for the 10th specie of the day.
Anglers will also receive an additional:
100 bonus points will be scored for catching 10 fish with a maximum of 5 fish per specie.
5 Barbel, 5 brown dog sharks, 5 sand sharks, 5 Blue rays 5 shad. This is to stop anglers from targeting these easy species.
25 bonus points at 15 fish
100 bonus points at 20
100 bonus points at 25 fish
200 bonus points at 30 fish
300 bonus at 35 fish and 300 for every 5 fish thereafter
Edible Fish over 500g = 4 points per kg plus bonus points
Pricing, Membership & Optional Extras
To become an official member of any RASSPL franchise, you will need to pay an annual fee of R400. This gives you all sorts of discounts and allows you to score points in the competition, which will make you eligible to fish the National Competition in April of each year. You then pay R70 to fish each competition.
If you are a non member, you pay R150 per competition. You still qualify for all the prizes etc. but you do not accumulate points during the competition.
If you become a member I highly advise you purchase a RASSPL weigh mat to record your catches. These mats are R120.
You can also purchase a franchise shirt for R350 which will display your unique number and your name, as well what franchise you are representing and their sponsors. Caps, buffs and all sorts of other items may be purchased as well.