Millstream Fly Fishing - Wordsworth Waters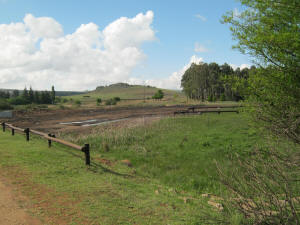 In recent years Wordsworth Waters has been tough to fish because of the huge weed problem the dam has. However there are a few pockets where there is no weed on or close to the surface and this is a great area to cast a static fly. Wordsworth Waters used to be the most consistent dam on the property until the weed problem started, with fish up to 2.5kgs being caught, hopefully it will get returned to it's former glory.
When To Fish Wordsworth?
Wordsworth Waters is very much, and always has been, a late afternoon dam. The fish feed very well here from 3pm onwards. There are sporadic hatches throughout the day and the fishing during this period is good as well.
Where To Fish Wordsworth?
The jetty closest to the road before you drive passed the dam if you were leaving Millstream, is a good spot to fish, as there is a deep channel running through that area, it is very narrow, but the fish often hold in it. If you walk passed the Jetty there is lots of shallow water where one can sight fish using a dry fly. And then all along the dam wall with the white railings is a great spot to fish off.
What Flies Work?
Dry Fly: Humpy, DDD, Adams, RAB.
Wet Fly: Walkers Killer, Mrs Simpson.
Nymphs: Green Buzzer, San Juan Worm, Damsel Nymph, GRHE, Flashback.
What Techniques Work?
Fishing a small Green Buzzer or Flashback Nymph under a DDD is the best way to fish the pockets that are left in Wordsworth, you cannot go wrong with this technique.
Extra Tips For Wordsworth
Walk up and down the dam wall and cast into the openings in the weed, you will be able to see the fishes movements and from there you can determine how you want to target them. Dry flies and buzzers work exceptionally well here.