New Species Of Fish Found In the Eastern Cape, Rare Species Caught & New Distributions Found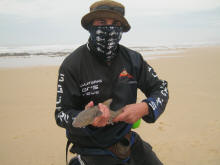 Another big part of this marine and fish conservation research project is to identify new fish that occur in the area studied, how common the fish we think are rare actually are and are there any new species unknown to science that occur in these waters. I would love to identify new species in the region or in science. This bit of research will be very exciting, but very testing and hard work. Hopefully I can find more information on some fish I have recorded before in the area, such as the Blacktip Kingfish and Natal Stumpnose, which I have both recorded in estuaries in the 60 kilometer research area. Keep following this page for pictures updates and stories.
New Fish Species Discovered

Going through all the records and past photo's I might have found a new species of Klipfish (Clinidae). It is a poor photo to identify it properly but this species has similar characteristics to the Agile Klipfish. It might be just a different colour form as Klipfish species go through different colour changes and patterns during their life span. The picture on the left is the fish. Please click to enlarge. Until positive identification is reached this species will be called the Agile Klipfish or just be referred to as Clinidae sp.

A new species of the class Gobidae has been recorded by us, Aimee was the first person to catch this new Goby species, so it will either be referred to as Aimee's Goby or Gobidae sp. We have caught 4 of these specimens and are trying to catch more to take to the Ichthyology department in Grahamstown to be confirmed as a new Goby species. It is a real exciting prospect for us, as we have caught them all in the same location, so will try and recapture them.
Rare Fish Species Caught
African Longfin Eel caught close to Kariega River Mouth.

Thornfish recorded in Kariega River

Russell's Snapper recorded in Kariega River.

Black Seacatfish caught inshore and in river mouths.

Blacktip Kingfish recorded in closed Kleinemonde West River.