What Lead To The Research? Motivations & Inspirations

I have been fishing these areas for many years, in and around Kenton-on-sea, where my parents built a house in the late 1980's. I have a strong loving connection to this town and the areas surrounding it. At a young age my father introduced me to fishing, and since then it's been a never ending quest for fish species. I have always been a conservationist at heart and after witnessing some distressing things: People keeping more fish than they are supposed to, the poor releasing methods of fish landed, the locals keeping everything they catch disregarding size and bag limits, and people keeping rare or slow growing fish; this motivated me to try raise awareness and conduct my own research on all things relating to fish, in the area I have known since I was a few months old. This is my passion and if I can somehow give something back to the ocean in any form, or get the message across to as many people as possible, this long term research project will be worth it!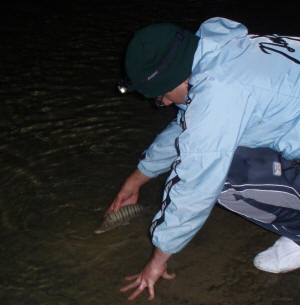 Many people have been full of support of this project and I cannot thank them enough. I want to see the return of the large fish that were caught on a daily basis off the shore in this area in the 1970's and before; I want to see people releasing as much as they can but most importantly, I want to show the World what this area means to so many people, including myself, the natural beauty and the sheer abundance of the marine and terrestrial life that occur here, and how we take them for granted. I hope you will follow this research project and understand the passion that I am putting into this to ensure "my home" stays the way it is for years to come!
Gareth Roocroft - Fish The Sea