Millstream Fly Fishing - The Solitary Reaper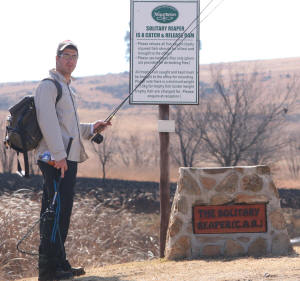 The Solitary Reaper is a catch and release dam only, and is one of 2 trophy dams on the Millstream property, the other dam being Lake Crystabel. The Solitary Reaper holds both Brown and Rainbow Trout, and plenty of big trophy fish at that. There are Rainbows well over 3.5kgs in The Solitary Reaper, the fish here are the most difficult to catch on the entire farm, they are very well "trained". The Solitary Reaper is about a 1 kilometer walk from the parking area close to reception and the horse stables and is worth the walk. It is a beautiful dam and is surrounded by wildlife to keep you entertained during slow days. Please see more information below.
When To Fish The Solitary Reaper?
The Solitary Reaper is a difficult and tricky dam to fish, regardless of when you fish it. Early morning up until mid-day has proved to be tough, and from around 1pm until sunset would be the best time to fish it.
Where To Fish The Solitary Reaper?
A float tube has proved very successful at The Solitary Reaper, however if you do not have one, there are a few spots along the dam wall that constantly produce fish. If you work your way from the middle of the dam wall and walk right, this area has a lot of good spots. Sometimes the outlet close to The Solitary Reaper sign produces fish on dry fly.
What Flies Work?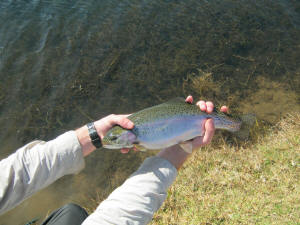 As this trophy dam is tricky, a lot of effort has to be put in to catch fish. This is one of the few "stocked" dams where I look under rocks to see what insects are beneath the surface. This is a must in my opinion.
Dry Flies: Dry flies do not work too well here, but during a hatch a small Yellow Humpy and RAB imitations have worked.
Wet Flies: I have casted my arm off with wet flies here, and I think the fish have seen it all too often. Have had inquiries on Red Eye Damsel and Lake Dragon patterns.
Nymphs: This is the way to fish the Solitary Reaper, natural coloured patterns work best. Flashback Nymphs, GRHE, Caddis, Buzzer, San Juan Worm.
What Techniques Work?
As mentioned above Nymphing is the way to go. Floating line with a 16 foot leader and light (3lb) tippet is the way to go. I like to use a bite indicator with a small buzzer or San Juan Worm here with a GRHE acting as the heavy fly.
Extra Tips For The Solitary Reaper
Try find the fish when fishing from the bank, walk very slowly up and down the dam wall until you do, at The Solitary Reaper the fish often can be caught in one spot the whole day.