Catching Sharks On Light Tackle
No Shark Is Too Small... Fishing Light For Non-Eds!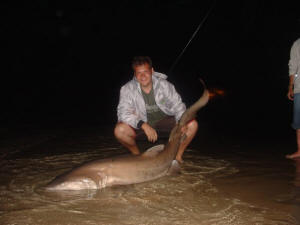 My first shark fishing experience was at the Kariega River Mouth in the Summer of 2007. I will never forget that first night and how it changed me. A few friends and I were fishing with 10 foot rods, small coffee grinder reels, and line that had been used over and over again. Our rigs consisted of cheap 6/0 hooks, and a short 60lb bite trace. Looking back on it now, I am surprised how nothing bad happened. We landed all sorts of Non Eds that night; Raggies, Blue Rays, Sandsharks and Gully Sharks, the biggest being 60kg's. Little did I know, that then, I would fall in love with light tackle and start targeting these fish all throughout the year on as light tackle as possible. What a rush it can be. When I speak about light tackle, I am referring rods 8-12 foot in length rated no more than 4 ounces and coffee grinder reels between sizes 4000 and 6000 with .45 line or less loaded onto them.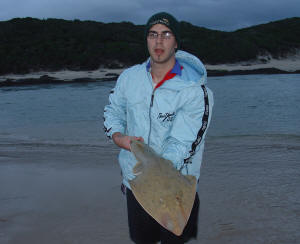 The Kariega River Mouth is in Kenton on sea, in-between Alexandria and Port Alfred and is a beautiful little town. Every year from about August up until April, all sorts of non edible fish move into the river and the surf of the mouth zone. These fish are mainly juveniles or pups in the case of Ragged Tooth Sharks. However there has been big Blue Rays, Diamond Rays, Raggies and even Zambezi Sharks caught amongst the smaller sharks and flatfish. That's when your tackle is put to the test and your skills as an angler too.
Fishing the Kariega Mouth during the warmer months is best done at night when you are targeting non edibles. The beauty of fishing with light tackle in this spot is that you can fish right into the mouth and a cast of 20 meters will put you onto the fish. Then it is just a matter of holding on. The bite can often be wild here and depending on the water temperature, tide and weather conditions will depend on what you will target. Below I will list the conditions where the fish are most active:
Ragged Tooth Sharks – As the tide starts coming in, they prefer cooler conditions and water. But can be caught in all conditions.
Lesser Sandsharks – Caught throughout the day and can be quite a pest. Generally when the Raggies are wild, the Sandsharks go off the bite.

Spotted Gully Sharks – We have had success with them in the water is cold and the Raggies haven't been as active.

Blue Rays – Caught on warm nights here, and in heavy winds.

Diamond Rays – When the water and outside temperatures are a bit warmer, when there is a lot of humidity in the air, it tends to put the Diamonds on the bite.

Other species that have been caught and encountered here are Tiger Sharks, Zambezi Sharks, Eagle Rays and Duckbills and occasionally Bronze Whalers and Grey Sharks. A friend of mine got spooled recently by a Bronzie at this spot, the disadvantage of light tackle!
In terms of bait you cannot go wrong with anything bloody. All the fish here have been caught on Sardine and Mackerel but generally these baits work better for the fish:

Ragged Tooth Sharks – Mackerel head, sardine "bomb" bait.

Lesser Sandsharks – Sardine fillet.

Spotted Gully Sharks – Yellowtail fillet.

Blue Rays – Chokka and sardine combination.

Diamond Rays – Sardine and mackerel combination.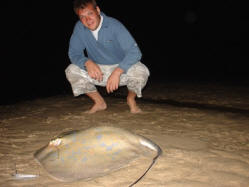 Just make sure your knots are 100% and your hooks are sharp and I guarantee you all sorts of fun on any Summers night in the Kariega River Mouth! There have been some big fish caught here and in the surf in Summer as well, so it might be worth sliding out a bait, while you target the other non eds on the lighter tackle. Have seen 150kg Raggies, 70kg Diamond Rays and a 25kg Blue Ray been landed here. This will also give you some insurance if a Bronze Whaler picks you up.
Here is some general information:

Kariega River Mouth GPS Co-ordinates: 33° 40' 52.49", 26° 41' 3.60"

Best Time: October- March

Best Tide: From when it starts to turn until it is fully high.

Traces: Short with at least 100lb Coated Steel, full jacket.

Hooks: 6/0 – 10/0

Bait: Mackerel and Chokka.