Freshwater Fishing Areas In Gauteng: The Edenvale Quarry
Information On Gauteng Angling Venues: The Edenvale Quarry
There are many freshwater anglers in the Gauteng province that look for dams to test out their fishing skills. This dam is a very difficult dam to fish but does hold some great fish... The information below was obtained from South African Game Reserves ...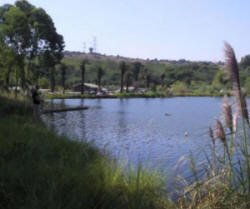 The Quarry, as it is called by all who fish there, is a deep fishing man made lake in Edenvale in Gauteng . It is in the middle of an industrial park and is a freshwater fishing location. It is a very beautiful and tranquil place with very little litter and if you block your ears you could swear to be in the wilderness. The Edenvale Quarry is a very deep dam with lots of huge drop offs and structure. It is not the easiest body of water to catch fish in but the fish are there and there are some really big fish that do occur in the dam. Apparently this lake used to be an old quarry many years ago, hence the name. It is a great place to spend a Friday afternoon or Sunday morning and there is even overnight accommodation at the local scout camp on the furthest bank of the Quarry. As I mentioned before the water is really deep in certain places and there are even a few buildings covered by water in the middle of The Edenvale Quarry.
Last I heard there was a monthly fee you had to pay to fish this dam... This fee allowed you to bring 2 cars into the Quarry area and also gave you a key to the gate.
All sorts of fishing can be done here depending on what South African freshwater fish you want to target...
All the fish species that are found in the Edenvale Quarry are listed below:
Back to freshwater fishing locations page...
Directions To The Quarry In Edenvale Below: Please click photo to enlarge it.