Millstream Fly Fishing - Lake Coleridge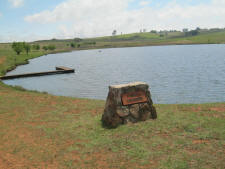 Lake Coleridge is a very large, clear and deep dam in-between The Solitary Reaper and Tintern Waters. Lake Coleridge is very weedy and has a lot of large insect life and frogs to imitate. Lake Coleridge holds some 3kg Rainbow Trout. Coleridge is a favourite amongst float tubers, and has some superb deep drop offs from the sides as well as gradual and shallow drop offs where the Rainbows often frequent on colder days and when spawning.
When To Fish Lake Coleridge?
Lake Coleridge fishes well from before sunrise until after sunset, it is a very healthy dam and the fish feed throughout the day here.
Where To Fish Lake Coleridge?
Make use of the Jetty's all around Coleridge, as the fish often lie deep here and a lot of fish are caught of these structures. The outlet area of Lake Coleridge also has a good amount of Rainbows, especially when the fish are spawning, then the shallow water here is full of fish.
What Flies Work?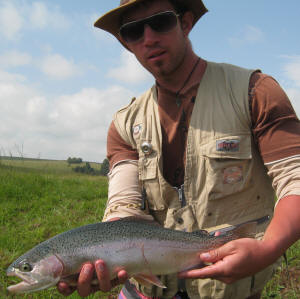 Dry Fly: Dry flies work very well here, especially when there is a hatch. Royal Wulff, Royal Coachman and RAB produce consistent results.
Wet Fly: This is a great dam to fish sinking line in with flies such as; Woolly Bugger, Woolly Worm, Mrs Simpson, Lake Dragon, Aggrevator Nymph, Red Eye Damsel.
Nymph: A lot of fish can be caught on all nymph and buzzer imitations at Lake Coleridge, but Damsel Nymphs, GRHE and Orange and Green Buzzers produce a lot of good fish.
What Techniques Work?
Fishing a nymph 2 feet below a strike indicator or large dry fly works very well here. I would personally fish a fast sinking line at Lake Coleridge with a Black Woolly Bugger or Brown Lake Dragon, let it sink to the bottom in the weed and strip it quite fast with a pause every now and then.
Extra Tips For Lake Coleridge
Change your fly every 5 casts if you have not had a strike or missed a fish. That is the best way to get the fish out of Lake Coleridge.