How To Tie A Micro Fishing Trace/Rig - What To Use?
I love fishing light tackle and I love catching different species of fish. It might sound weird to many, but I love catching juvenile fish. The really small species. Fish when they are this size are really beautiful and a joy to see, so if anyone is interested I thought I would share a very simple trace, and some tips and pictures. The beauty of this trace is that you can catch any fish in the ocean or in freshwater, glassies, silversides, blennies, gobies, and many of your usual species. You can also catch fish such as Butterflyfish, Steentjie, Chubb any many other rarities.
The Trace
What you need:
A 15cm trace of 1-3kg line
Size 18 hooks
Smallest swivels
Split shots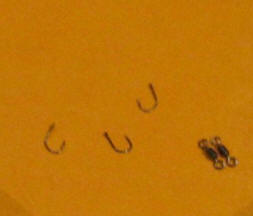 You can get hooks this size in the fly fishing sections of many angling shops, by the fly tying section.
Bait wise the best and easiest bait to use here is a tiny piece of tenderized chokka, soaked in the juice from pink prawn or sardine blood.
The Tackle
To make it fun fish the lightest setup ever. A very sensitive and 'bendy' rod no longer than 6 foot and a small grinder loaded with a maximum of 7lb line.

My setup for this is: Kingfisher Gully Hunter 6 foot, Shimano FX 1000, 5lb Double X. An example of the tackle to use can be seen on the left for Micro Fishing.
Other lines to look at are Berkley Trilene 4lb, Maxima Ultragreen 6lb and if you can find it 2lb Fireline.
Other rods that are available under 6 foot include the Berkley Cherrywood, Berkley Lightning and Shimano Scimitar.
Other reels that are good for this application are the Shimano Sienna 1000, Okuma 500, Daiwa BG10, Quantum Triax 10.
The Fish - Micros and Miniatures
Fish That You Have Only Seen Before Can Now Actually Be Targeted: If anyone is ever willing to give this type of angling a chance I am sure you will not regret it. The range of species that you will catch are amazing!