Quantum Triax TRX30F
Spinning Reel Review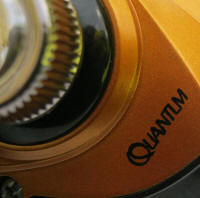 The Quantum Triax is a beautifully designed spinning reel that can be used in fresh or salt water. I really enjoy the modern design and colours of this grinder. The Quantum Triax is a fixed spool spinning (Coffee Grinder) reel. This beautiful inexpensive spinning reel is hardy and good looking and can land big fish too back it up.
The Triax was made in 2010 and is fairly inexpensive because all the parts for this reel were manufactured in Japan and then built in Tulsa, Oklahoma, USA. The retail price in South Africa can vary between R180.00 and R250.00, one should not pay more than R300 for this reel.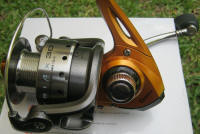 Everything seems in good order and very solid, and I am looking forward to seeing how this reel performs in the sea. If it does well this could arguably be the best "cheap" spinning reel made in South Africa. And after thorough testing it performs beautifully in the ocean, I don't think I will ever use another reel in this size again, I have fallen in love with the Quantum Triax 30.
The Quantum Triax comes in a 10 20 30 40 50 and 60 size, but the 30 size, which is the one I am reviewing, seems to have the best all round capabilities and specifications in the Triax range.
The Quantum Triax 30 has:
Front adjustable drag
Aluminum Spool
Continuous Anti Reverse
Right/left hand retrieve
Gear ratio 5.2:1
7+1 ball bearings
Weighs 247 grams
145 meters/8lb
Special Features:
Super Strong Drag, really impressed with it.
Has a long stroke spool design that allows line to more easily flow from the spool during the cast. This design helps to increase cast accuracy and distance, and in turn provides less line twist.
Braid ready.