South African Fishing Locations: Dowerglen Dam Gauteng
Freshwater Angling Venues: Dowerglen Dam - Edenvale, Gauteng

Dowerglen Dam, is in Edenvale Gauteng and it is a small dam with a lot of fish in it... These fish can be quite difficult to catch but perseverance is the key here and you will be rewarded with some nice fish. It is a safe area for daytime fishing with safe parking about 400 meters from the dam in the parking lot of a shopping center. There are lots of benches and shaded areas and plenty of space along the bank for the fishermen. Dowerglen Dam is generally well looked after but recently they have had a few problems with pollution in the water, which caused a number of smaller fish to die. Also known as Willow Park Dam.
How To Get To Dowerglen Dam?

Dowerglen Dam is on Elm Street very close to the Pretoria and Johannesburg highway off ramp and parking is available at the Grandslam Sports Diner. Park your car and walk out of the parking lot. Go right immediately and you will see an entrance in the green fence. Then walk down to the dam and enjoy the fishing!
Fish Species At Dowerglen Dam?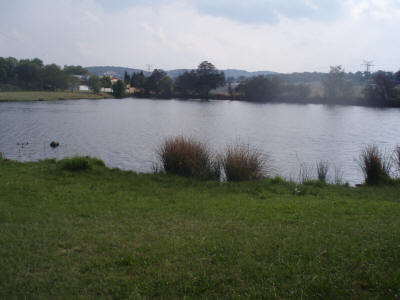 There are a lot of Barbel in the dam that can be quite hard to catch and your best chance to catch these Barbel at Dowerglen Dam is before 10 am and after 3pm. Common Carp also can be tricky to catch, if you make a big feeding area you should get a few. There is also plenty of structure, reeds and drop offs for the Bass and Kurper.
See more Freshwater angling venues here...