Fishing Lake Jozini For Tigers & Kurper – True Bushveld Fishing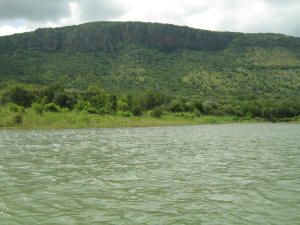 As a fisherman, you couldn't wish for 2 greater mates, Sean and Gavin, and when you put the 3 of us together in a bushveld paradise, such as Jozini, you know it is going to add up to be an amazing fishing trip, regardless of the fishing, that's how it should be! Taking advantage of the long weekend we made the 500km trek to Jozini in the Blue Demon, towing the boat, the African Dream behind us. The Nissan is definitely not designed for 3 fully grown men to sit up front in, but hey, it's all part of the experience! A lot of talk and laughter helped us get through the trip which seemed to last for days, and then we were there. JOZINI!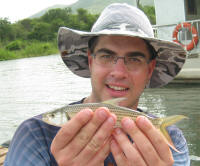 Staying at Fish Eagle Camp, we set up everything to our liking and then launched the 2 boats, one of which belonged to Sean's father, James, who was joined by Peter and Jakes. Then the fishing began.
Our main aim was to get Tigerfish, of course, but we tried all sorts of fishing for all different types of fish. Jozini is one of those places where catching fish is a bonus, the beauty and tranquility is like no other freshwater spot I have ever fished, if you haven't fished Jozini, do it!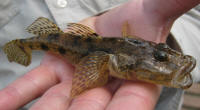 We spent a lot of time at the boat jetties 150 meters from our campsite where we caught all sorts, small Tigerfish (On bait and fly), Red Breast Kurper, Blue Kurper, Nile Kurper, Tank Goby and Barbel. The small Tigers are really plentiful there and I had hours of fun trying to get one landed on the 4 weight fly rod (Hooked about 10 and they ALL shook the fly). That place is full of life. Lots of bird life, insects, reptiles and animals around too, it is wild...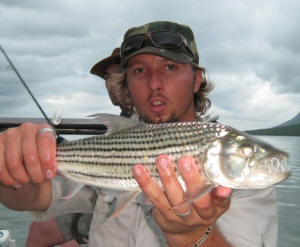 We spent some time on the boat as well, although Gavin and Sean fished on the boat more than I did. The second night we were there, we fished a bat close to the gorge and we found a huge population of Tigers, from 300 grams to 1 kilogram. We all had a lot of bites, but Gavin showed his skills to get 5 Tigers in 7 casts, you do not understand the power of these fish until you feel them hit a bait or when they peel line off your reel. Earlier that day we witnessed the fastest take any of us had ever seen, on a Kurper fillet. It was Sean's rod and it was very quiet and out of nowhere it got picked up. It is hard to put into words the speed the Tiger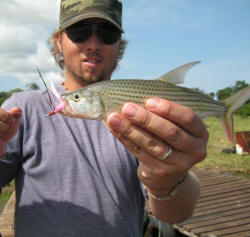 picked up that bait, Sean struck, and was on for a second and then his braid parted. We all hooked and lost at least one large Tiger, and it creates an adrenaline rush of note.
The biggest fish of the trip (Between 1 and 3 kilograms) were caught by Gavin and Sean in the bay close to the slipway, unfortunately no camera was on board, but I did see Sean's Tiger, it was huge! The wind blew hard on the last day which changed something as the fish went off the bite completely. The only problems we had was hooking and landing the Tigers, we would have caught over 50 without a doubt. Jozini is amazing and the Tigerfish has to be crossed off anyone's bucket list, no matter what fishing discipline you enjoy.