Artlure Micro Fishing & Angling - Ultra Light Tackle
More and more freshwater and saltwater fishermen are getting involved in Artlure angling, and it is becoming increasingly popular, with many species and biggest fish competitions held all over South Africa.
Artlure is: The use of artificial bait imitations to catch a variety of freshwater fish species. It is used to target a wide range of fish species, from Barb's to Barbel, and you can target almost anything with Artlure. It is almost the equivalent of micro dropshotting in the saltwater.

Everything is small and light when it comes to fishing Artlure, except some of the fish species you might encounter when targeting micro's. Big Carp, Barbel, Bass and Blue Kurper are caught as by catch when trying to tempt Dwarf Kurper or Mosquitofish. When it comes to Micro Artlure you want the lightest setup you can get your hands on, such as a 4-7 foot rod with the lightest rating as possible. Then a small coffee grinder reel, maximum size 2500, matched with 2-8 lb braid or monofilament, and then a fluorocarbon leader. Small hooks should be used, and there are three ways to set up a rig here. You can either use a jighead or leadhead, a hook with a split shot further up the line, or even fish weightless.
"What I use: Berkley 4 foot 6 rod, Shimano Sienna 1000, 5lb Double X."
Normally you would use plastic lures, very small ones at that, such as curly tails, grubs, minnows, flukes or worms. You can also use small lures such as the Salmo Hornet, Halco Sorcerer 35 or Spro FatCrank 20. There are many different techniques for targeting specific species using Artlure. Below is just a general guide for fishing with different types of lures Artlure style for different fish species...
Curly Tails & Other Plastics
There are various techniques for targeting all species of micro fish.
Slow retrieve, bouncing lure along the bottom.

S

low retrieve along the bottom with a few twitches in-between.
Cast over where the

fish

are feeding, let it sink and slowly bounce the lure along the bottom.
Medium to fast retrieve with aggressive jerks in-between.

Leave the lure in the shallow water and just twitch it and slowly reel in the slack line.
Small Lures & Hard Plastics
Slow to medium retrieve.
Varied, from fast to slow, shallow to deep water.
Fast retrieve with a bit of a jerk every now and then.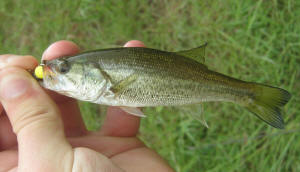 Artlure is fantastic and can keep you entertained for hours and the fun aspect of it is, you can catch almost any fish! Curly Tails in my opinion on a 1/16 once jighead or leadhead are the best lures to use in terms of catching species. The best colours would definitely be yellow, lumo yellow, white, black, yellow and black and yellow and red. Curly Tails can be purchased from any tackle shop.
Fishing around structure such as submerged vegetation, logs and weedbeds will produce good results. But you can even catch fish in open water, especially if you are targeting Carp or Barbel micro's.
Good luck in your Artlure adventures, it is the future of freshwater fishing and is extremely exciting!