Stumpy Bay - Eastern Cape Estuary Fishing
Stumpy Bay, as we have named it, is on the Bushman's River in the Eastern Cape, about 300 meters from the Bushman's River Mouth. It is a man made bay made in-between to artificial rocky points and provides shelter for many smaller fish species in the estuary, the most prolific of these being the Cape Stumpnose.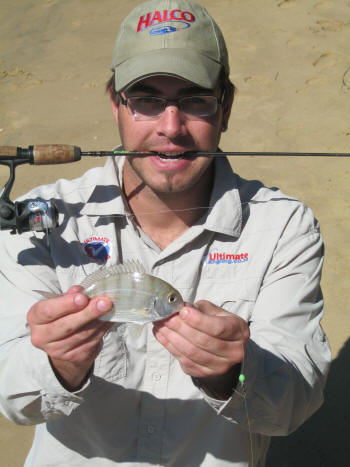 One of my favourite fish without a doubt is the Cape Stumpnose, and I love targeting these fish on ultra light tackle because of their fighting strength. Once you find a school of Cape Stumpnose you can have hours of fun with these fish and that is what is so great about Stumpy Bay. These fish are full up in the bay during all hours of the day and night and one can easily catch 30 fish in a session here.
In Stumpy Bay you can also find other fish species that you can target on the light tackle... Flathead Mullet, Blacktail, Zebra, Sand Steenbras, Garrick, Kob, Grunter and White Steenbras.
The best baits to use at Stumpy Bay are pink prawn, sand prawn, mud prawn, sardine and chokka squid.