South African Fishing Spots: Riet Reef - Rietrivier
Riet Reef was named by Fish The Sea, and refers to the entire rocky area from just left of the Riet River, all the way up to Three Sisters. These rocky ledges and bays no doubt have specific names but we will refer to this entire spot as Riet Reef.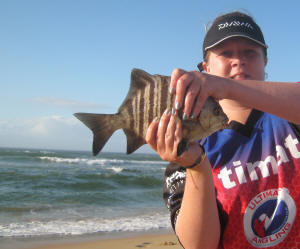 Riet Reef is roughly an 800 meter stretch of broken rock, rocky bays, rocky gullies and ledges where numerous reef-type saltwater fish hang out. All of these areas are worth exploring and there are a variety of fish all along the reef, and some big fish in amongst them. Hours of fun can be had catching the fish off Riet Reef at low tide.
The image on the left is of a very large Banded Galjoen caught by Aimee Harvey at a spring high tide of Riet Reef, and below you can find a list of all the saltwater fish species you are likely to encounter when fishing the Riet Reef area:
Banded Galjoen

Honeycomb Moray Eel